Minneriya National Park Safari
Leaving Negombo lagoon, we took our morning transfer into the Cultural Triangle region. Since it was a 4-hour drive, we aimed to catch up on some sleep, (as the night before was quite hot and we didn't sleep so well) - although Katelyn resisted it, as she was fascinated by the sights & scenery.
Lunch time we stopped off at a hotel in Dambulla, for a buffet lunch. The funny thing about Sri Lankan food is it can look deceptive mild – the kids noticed a "fish finger" type roll – yes, you guessed it – only to find it being the spiciest thing they'd ever tasted! The Fanta couldn't come quick enough.
Late afternoon we arrived at Minneriya National Park. At this time of year, it is well known for its annual elephant gathering. We swapped vehicles, all ready for our safari drive with one of the park rangers. We saw all sorts of animals, here's a list that Lydia spotted…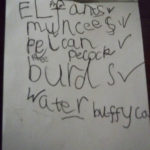 Monkeys
Pelicans
Peacocks and peahens
Painted Storks
and lots of other birds (we're told around 160 species)
Water Buffalos
Spotted Dears
…and of course Elephants!
The safari was ace, we had a great time.  Our jeep was open-top, so we got to stand up whilst driving around the dirt tracks, but we didn't realise how dusty it would be... let's just say that our orange faces weren't from sunburn! ;-)
After the park closed at sunset, we headed over to our hotel in Sigiriya.